JACQUIE MANNHARD: LEADVILLE 100 TRAIL RUN CHAMPION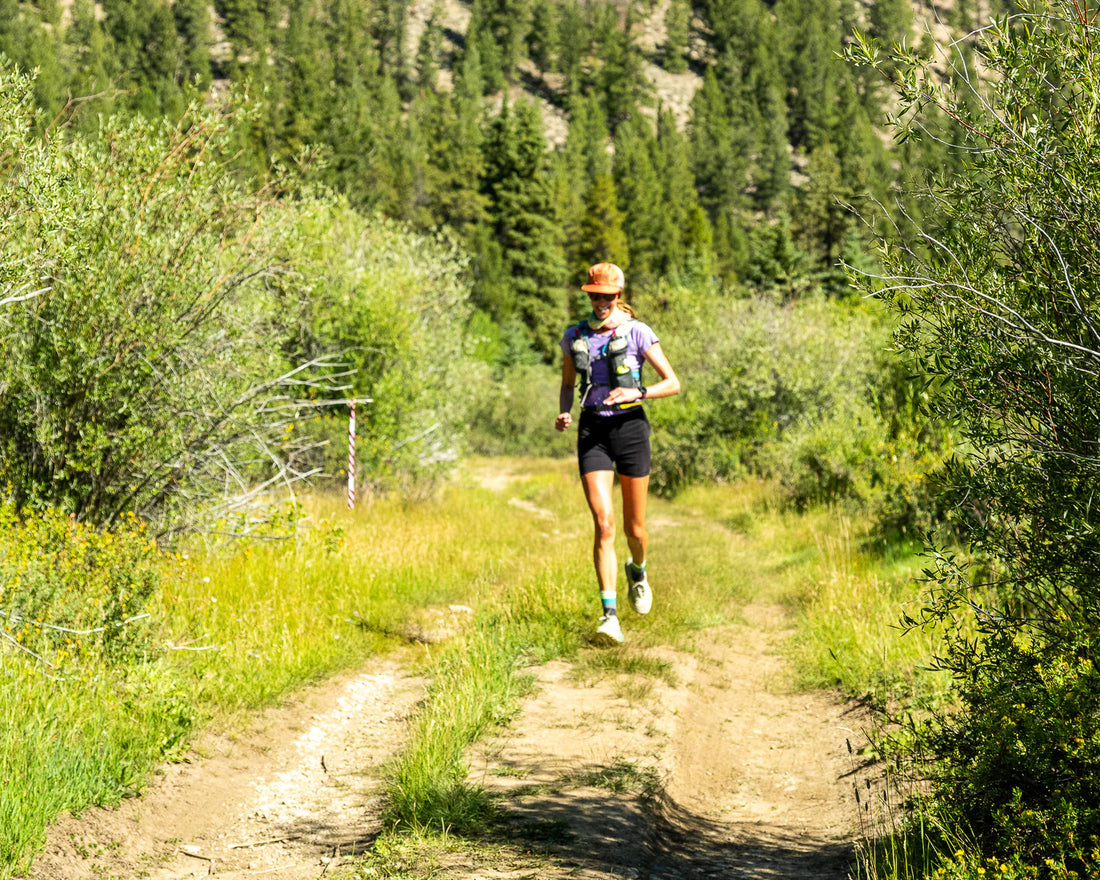 A couple of weeks ago, we received a DM from a runner thanking us (Tailwind) for helping them fuel their race. We get these a lot from different channels. It is super cool and we love these messages. Upon further reading, we realised that the runner was the female champ at the Leadville 100 this past weekend.  The DM was shared with the whole company as we do with all success stories. The owner, Jenny, was so excited she personally emailed Jacquie to congratulate her and see if we could chat about her race and just get to know her. Jacquie was kind enough to agree and set aside time to chat…
This past weekend Jacquie Mannhard became the Leadville 100 Female Champion. She wasn't a big name in the sport. She is a 38-year-old mum of two.  It was only her second 100 miler (her first being one of our favourite races, Run Rabbit Run.)  But Jacquie is no stranger to running and she is definitely not a newbie. We all followed Jacquie's victorious journey this past weekend during the 100 miles across the sky but to really know Jacquie is to take it back to the OG mum runner, Mary Ann! Jacquie's mom, Mary Ann, was running marathons in the 80s and 90s while Jacquie was growing up. It was not a common thing to see women running such long distances back then. To Jacquie it was normal and running has always been a big part of her life and her family. She ran XC in high school and college. She always liked the longer distances like 5k and 10k. 
Jacquie and her husband, Steve, live in Boulder with their two kids Rose (age 9) and George (age 7).  They are unimpressed (at least outwardly) by their mum's athletic prowess. We chatted about being a role model to her daughter particularly and about other woman in the sport. Inevitably, Courtney Dauwalter's name came up. In Jacquie's final 13 miles to the finish she called upon a famous Courtney mantra to get her to the finish. "I'm fine. This is fine." 
As Jacquie recapped the race and her mental attitude during the entire run I couldn't help but feel some familiarity in all of it. She was describing "flow." That perfect race when the stars align and your ability and challenge are being evenly and harmoniously met. It's a rare occurrence for even the best athletes in the world. But when it happens it is magical. From Mile 1, Jacquie told herself, "I'm gonna have a good day. This is my day." I am not even sure she meant she was going to win the race at that point. She just knew she was going to be the best Jacquie she could be on that day.  When it got hot she told herself, "Heat is my strength." Climbing up Hope Pass, she told herself, "steep climbs are my strength." She then admitted neither of those things are actually her strengths! She just told herself that.
Besides just purely owning her mental game, Jacquie's nutrition was dusted and dialled long before the race. She said she really does rely on Tailwind Endurance Fuel as the foundation of her racing and training. She would pick up three flasks from her crew (500ml flasks), one of water and the other two with two scoops each of Endurance Fuel. She actually aims for 350 calories an hour so she would add in a gel, pizza, potatoes, or fig bars. She kept it simple with what she supplemented with and her fallback plan was to go to 100% liquids if the "pizza" hit the fan. It didn't and she never had any nutrition issues. Even in the heat of the day when others suffered. Jacquie used mostly Mandarin Orange Endurance Fuel but switched to caffeine in the second half of the race. She used a total of four sticks of Cola Caffeinated Endurance Fuel which she said paired amazingly with a piece of pizza. 
Now with the race behind her, Jacquie is just taking it easy and just trying to "walk normal." She isn't planning anything right away and giving her mind and body time to enjoy her win and recover. A dream race for her in the future would be the Canyons Endurance Run with a goal of lining up for the UTMB one day in the future. We know that goal is in sight, Jacquie, and we will be supporting you the whole way. Thanks for sharing your experience with us. We can't wait to see what you accomplish next!

 Cover Photo Credit: Dylan Tanner