THE IMPORTANCE OF ELECTROLYTES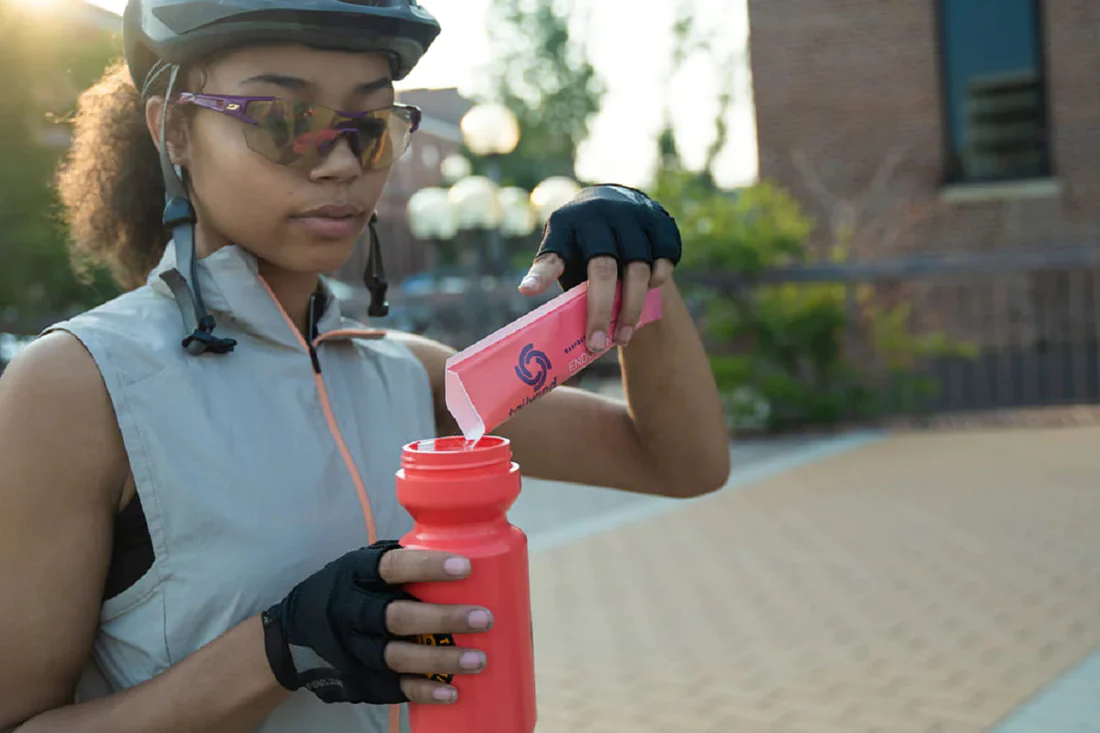 All of the physical training in the world won't prepare you for an endurance run if you aren't taking your nutrition as seriously. Unlike shorter races, a half marathon race pushes your body to the limits of what it can do physically, so you must keep it fueled from the start line to the finish line.
However, this isn't something you should spring on your body on the day of the race. Training for a half marathon diet is just as important as training your muscles. In the time leading up to your race, you should practice what you are going to eat before, during, and after your run.
Not sure how to go about creating a half marathon fuel strategy?
We know that the idea is daunting, especially for first-half marathon runners. Unless you have a background in nutrition, it can be hard to figure out a marathon diet plan that will provide you with all the fuel your body needs.
At Tailwind Nutrition, we know a thing or two about how to provide your body with the energy to push through even the toughest of runs.
If you keep reading this nutrition guide, you'll learn everything you need to know about:
Why You Need a Half Marathon Fueling Strategy
How to Create Your Plan
Combining it with a Half Marathon Hydration Plan
Examples of Marathon Fuel Products
The Best Marathon Fuel
The Importance of Fuel for a Half Marathon
Before we dive into how to fuel during a marathon, you need to understand why it is so important. What do the different nutrients do? How does it make a difference in your performance?
While a half marathon might seem less intimidating than a full marathon, it isn't to be underestimated. It is still a daunting 13.1-mile stretch that burns a lot of energy. Not to mention, it can be incredibly difficult on your muscles even if you've carefully prepared yourself for the endeavor.
When it comes to nutrition for marathon races, you must provide yourself with adequate:
Drinking-Water for Hydration
Carbohydrates for Energy
Protein for Recovery
Creating Your Half Marathon Fueling Plan
Keeping in mind that water, carbs, and protein are the priority, you should create a nutrition plan around these nutrients. Since most half marathon training programs last about ten weeks, you don't need to get too crazy. However, you should prepare a meal plan that will go along with your physical training plan.
It's essential to keep in mind that everybody is different. What works best for one runner might not work best for you. That's why giving yourself several weeks to sort out a plan is so critical. By the time race day comes around, you should know what, how much, and when to eat. The following suggestions should help you get started.
What to Eat When Training for a Half Marathon
Your half marathon nutrition plan will change in the weeks and days leading up to your race. When you are farther out from your race, you'll want to make sure that you consume a lot of complex carbohydrates and protein through easily digested real food. They are best consumed a couple of hours before you start your training run.
Some popular examples include fruit, trail mix, oatmeal, and peanut butter on whole-wheat toast. Since these foods are light and easy on the gut, you'll be able to focus on your run without an upset stomach.
As you get closer to your race, you'll want to start experimenting with your half marathon snacks. Your training runs are the perfect opportunities to figure out how to fuel during a marathon without slowing yourself down too much. Your practices also let you try out any hydration vests or belts.
Finally, the day before your race, you should carb load. The carb loading stage is a crucial part of your overall half marathon meal plan. When you take this time to consume more carbohydrates than usual, you give your muscles a chance to store the carbs as glycogen. This glycogen will then supply your muscles with the energy to get through your endurance run.
What to Eat Right Before Your Half Marathon
Once you reach the day of your race, you're sure to be feeling a mix of excitement and nerves. The last thing you want to feel on top of all that is sick. For that reason, you should focus on more of those easily digestible carbs and protein. Not only will the carbohydrates give you another boost of energy for your race, but the food should also help to settle your stomach.
While the timeline ultimately depends on you and your body, we recommend that you consume this meal anywhere from 1 to 4 hours before the half marathon. If you happen to be a person who can't eat before running, you might want to replace your meal with a sports drink instead. Doing so will ensure that you still get carbs into your body, and many will also include electrolytes.
What to Eat During a Race
From the moment your race begins, the muscle glycogen stores you've stockpiled up over the last 24 hours begin to deplete. You'd be surprised at how quickly that supply can deplete, however. Once you pass the one-hour threshold, your body needs to be supplemented. For that reason, carbohydrates are a vital part of fueling during marathon races of all kinds.
On average, most runners can complete half marathons in two hours. Therefore, it is recommended that you consume about 30-60 grams of carbohydrates per hour. These carbs can come in many different forms. You'll want to pick something easy to eat and gentle on your digestive system.
If you're wondering what to eat while running a marathon, we recommend that you try our Endurance Fuel which comes in a variety of flavors such as:
Mandarin
Lemon
Berry
Naked (Unflavored)
Matcha (Caffeinated)
Raspberry (Caffeinated)
Tropical (Caffeinated)
Cola (Caffeinated)
What to Eat After a Half Marathon
You've made it to the end! All of your hard work paid off, so now it's time to celebrate and forget all about your eating plan. Right? Sorry to say, but the diet doesn't stop the moment you cross over the finish line. Though it might be tempting to go out to a bar to celebrate with some friends, we suggest you refrain—at least for a few more hours.
Instead, you should seek out a good recovery meal. Within the first 30-45 minutes post-run, you should have a sports drink such as our Recovery Mix. One last snack packed with carbs and protein will also help your body to recover. Not only do the carbs restore your glycogen for more energy to celebrate, but the protein will help repair your muscles and reduce your odds of feeling too sore to move the next day.
If you only have time for a quick snack, you should prioritize one more nutritious meal. It's best if you eat within two hours of finishing your race. We recommend that you stick with something that has a nice balance of healthy carbs, protein, and fat so that you can refuel your body correctly.
Combine Your Nutrition with a Half Marathon Hydration Strategy
As important as your food plan is, you shouldn't forget about your hydration strategy. Hydration goes hand in hand with eating for a marathon, and without plenty of water, all those carbs won't do a thing for you.
We recommend that you make a plan to stay hydrated before, during, and after your run. Aside from when you are running, most of your sports drinks will coincide with your meals. For example, you should drink about 16 ounces of water two hours out from the start of the run. You should then drink another 16 ounces after you finish.
How much should you drink while you're running?
It depends. Some runners sweat more than others, so there is no definitive guide to how much you should drink while you run. Though you could try to wait until you're thirsty, we don't recommend that. It's easy to ignore your body's thirst signals when you are focused on your run, so instead, you should aim to take a drink at set intervals.
For some, that could mean taking a drink every fifteen minutes, and for others, that could mean drinking at every aid station. You'll be able to figure out the best half marathon hydration plan during the weeks of training leading up to the race.
Drinks to Fuel Your Race
If you're not sold on the idea of eating a gel or candy, we suggest that you look into beverages that can fuel your run. While they come in many forms, we find that powders are a very popular option for most runners.
These powders are often referred to as oral rehydration solutions (ORS), and they contain a mix of carbohydrates and electrolytes. The powders are meant to be dissolved in a water bottle, so they also provide you with your mid-run hydration.
Many runnerslove these electrolyte and carbohydrate drinks because they can carry the single-serving packets with them. When they need a boost of energy, it's easy to pour the powder into the bottle and shake it to mix.
The Best Choice for Fueling During a Marathon
Tailwind Nutrition makes an ORS specifically designed for runners who need the energy to get through those long races. Our Endurance Fuel offers all kinds of benefits when added to marathon training diets.
We recommend our product to anyone who is looking for:
A Good Source of Carbohydrates

We only use dextrose and sucrose in our products. These sugars are easy to absorb, so they enter your bloodstream much more quickly than others. Due to their fast absorption, they reduce the risk of a sugary overload upsetting your stomach.

Added Hydration

Our Endurance Fuel features electrolytes like sodium, potassium, and magnesium. These ingredients help your body absorb more water so that you can quickly replace what was lost through sweat.

Natural Ingredients

You never have to worry about artificial flavors or colors. We make all of our products with real, natural ingredients to give you a light, clean taste.
Summary
If you've made it this far, we hope you have a better understanding of half marathon nutrition. We know that it's a lot to process, and we've only covered the tip of the iceberg.
There is so much more to learn, but at least you'll have a good place to start now that you know:
Why You Need a Diet for Half Marathon Training
What to Eat During a Half Marathon
How to Create a Hydration Strategy
The Best Products to Fuel Your Run
If you would like to see the benefits of our Endurance Fuel for yourself, we encourage you to try a sample. Not only do we offer individual servings of all our powders, but we also offer bundles, including our Best Sellers and Starter Kit packs.
With some many options, what's stopping you from trying our half marathon fuel?