DAUWALTERMELON: COMING SOON!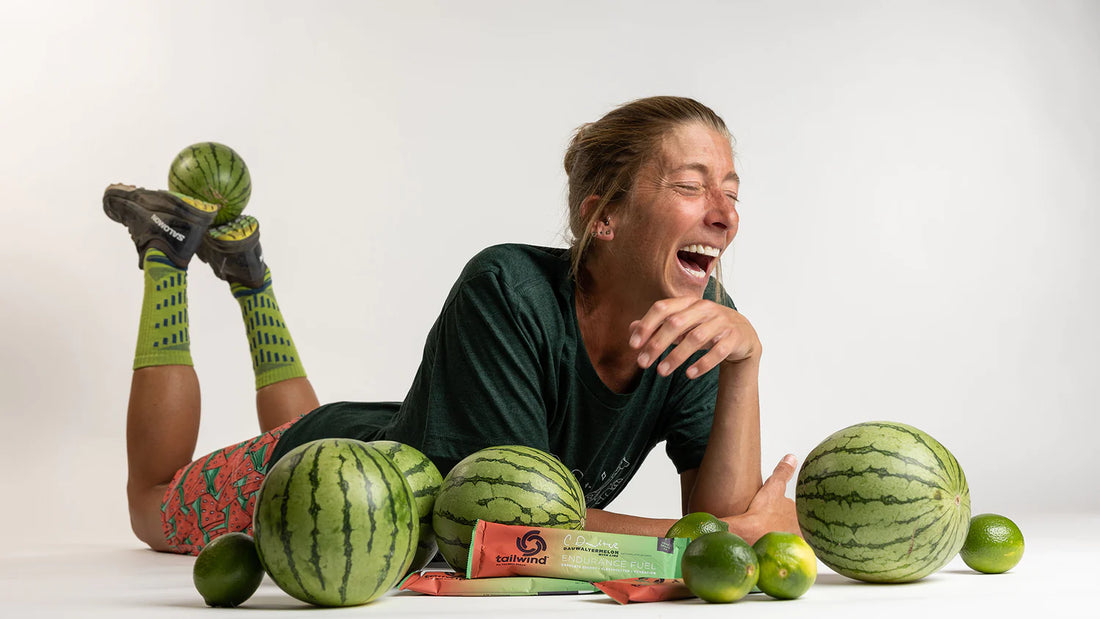 You may have seen over the pond at Tailwind HQ that they've been working with Courtney Dauwalter to come up with an exciting new limited edition flavour, Dauwaltermelon. It's already flying off the US shelves and it's currently making its way over to UK soil. We're expecting it to arrive later this month, but keep an eye out on our social media for an exact launch date...
Earlier this year, we knew we wanted to work with Courtney who has been a long-time Tailwind athlete and a wonderful role model and ambassador for the trail running community with her infectious positivity and overall love for the sport! She approaches everything with fun energy that makes it easy to want to work with her! 
Hi Courtney! Thanks for taking the time to talk to us after coming out with your limited-edition flavour, Dauwaltermelon! How long have you been using Tailwind and can you remember which flavour you tried first? 
I have been using Tailwind since 2017 when I tried it during Run Rabbit Run 100. It was probably Mandarin or Lemon Endurance Fuel but I'm not sure. I do remember, though, loving the taste and how easy it was to get in all the calories I needed. We connected shortly after that and have been working together ever since! 
What made you come up with a watermelon/lime flavour? 
The team at Tailwind is so talented and was able to create a whole slew of delicious flavour options to choose from. Many rounds of testing later, we landed on Watermelon with Lime because I could picture exactly how refreshing it would taste during a summer adventure or in the middle of a long race. I hope people find the flavour to be as refreshing as I do! 
What was the most difficult part or roadblock you experienced when developing this flavour?
How many options and nuances there are with flavours! Even once we had narrowed it down to Watermelon with Lime, we were playing around with the strength of both the watermelon and lime flavours in the product. They all tasted delicious so it was difficult to pinpoint exactly which version we wanted to move forward with.
From start to finish, how long did this collaboration take? 
This collaboration idea has been percolating for years but January of this year was when flavours started being created and testing started to happen.
What was something you learned in this process that sticks with you now?
I am impressed and thankful for the ability of flavour scientists to dial in the flavours of real life foods into a powdered drink mix!
Let's talk about our other favourite part of this collaboration, the swag, this shirt is so much fun and we know you worked with our designer to make this shirt complete! Can you explain the 'make new friends' and maybe talk about one of your hallucinations? 
I am so excited about this! During really long, difficult races, I usually have pretty vivid hallucinations. I didn't know hallucinations happened during ultras and so when there was a giraffe standing next to the trail and flying eels bombing towards my head, it really freaked me out! Since then, though, I have learned that they do happen and usually if they happen, it means we are getting to do something pretty cool. Everything in the design was a hallucination I have had at a race and these hallucinations have come to represent more to me than just a ridiculous story to share post-race. Working so hard towards a finish line and traveling so far with our feet is special and my mentality around those hallucinations is now more of excitement and curiosity: what friends will I make out on the trail today? 
Note: unfortunately the swag will not be available in the UK
Thanks Courtney, we hope you have a great season fuelling with your Dauwaltermelon! 
Water Melon Lime