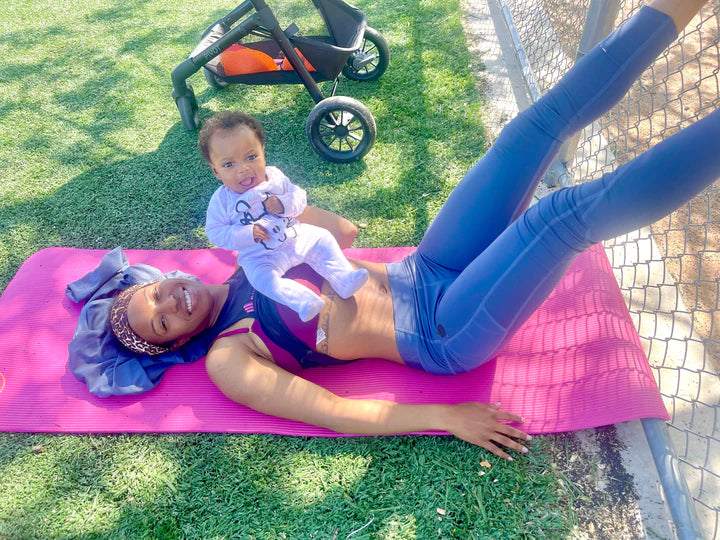 Written by Leah Fair
Last year I became pregnant and I didn't even know, I was still competing, still running, and living a completely normal life. When I found out I was pregnant I was filled with joy but I was also nervous because I didn't know how that would change the trajectory of my sports career in USA Skeleton or Track and Field. I tried to workout as much as possible during my pregnancy but it was the first time in my life that I had to take a break from exercising. My body just wouldn't allow it. I gained about 30lbs and I felt like I didn't know who I was! I didn't recognise myself, but I took my journey day by day and embraced the life I was carrying. Elana Meyers Taylor, 5-time Bobsled Olympic Medalist was a huge influence on my pregnancy journey, with Elana now being a mother of 2 and securing a silver and bronze medal within the same year as having her son Nico, she gave me hope. She reached out to me during my pregnancy and gave me HUGE tips and advice on how to keep moving forward. She let me know it's not easy but POSSIBLE.
After having my daughter I completely changed as a person. My heart has never been so full and I have never loved like this. She is the most perfect human on the planet. I feel like I can conquer the world after having my daughter, nothing seems too far away. I've started my business LeahFairActiveWear in honor of my daughter and I help Olympic Hopefuls fund their journey. I was surprised at how fast my body bounced back. I could not go on a single run without my Lemon Endurance Fuel it helped me navigate those tough workouts when I was going in on little sleep. 
Immediately after my lifting sessions, I use the vanilla recovery protein. I love that it is plant-based and a complete protein! I've never seen that before. With me being so sensitive to allergens and dairy, I think that these products were made for me!
Tailwind Nutrition has been huge in my postpartum recovery. I plan to return to competition in July 2023 and I hope I can motivate other mothers to still chase after their dream. Athletes like Serena Williams, Allyson Felix, Elana Meyers Taylor, and Shelly Frasier Ann Price have turned the name MOM into a whole new meaning. I hope to continue being that light. 
I am so thankful that Tailwind Nutrition has supported me throughout my pregnancy, it is a pleasure to be a part of the team! 
Header photo courtesy of Leah Fair