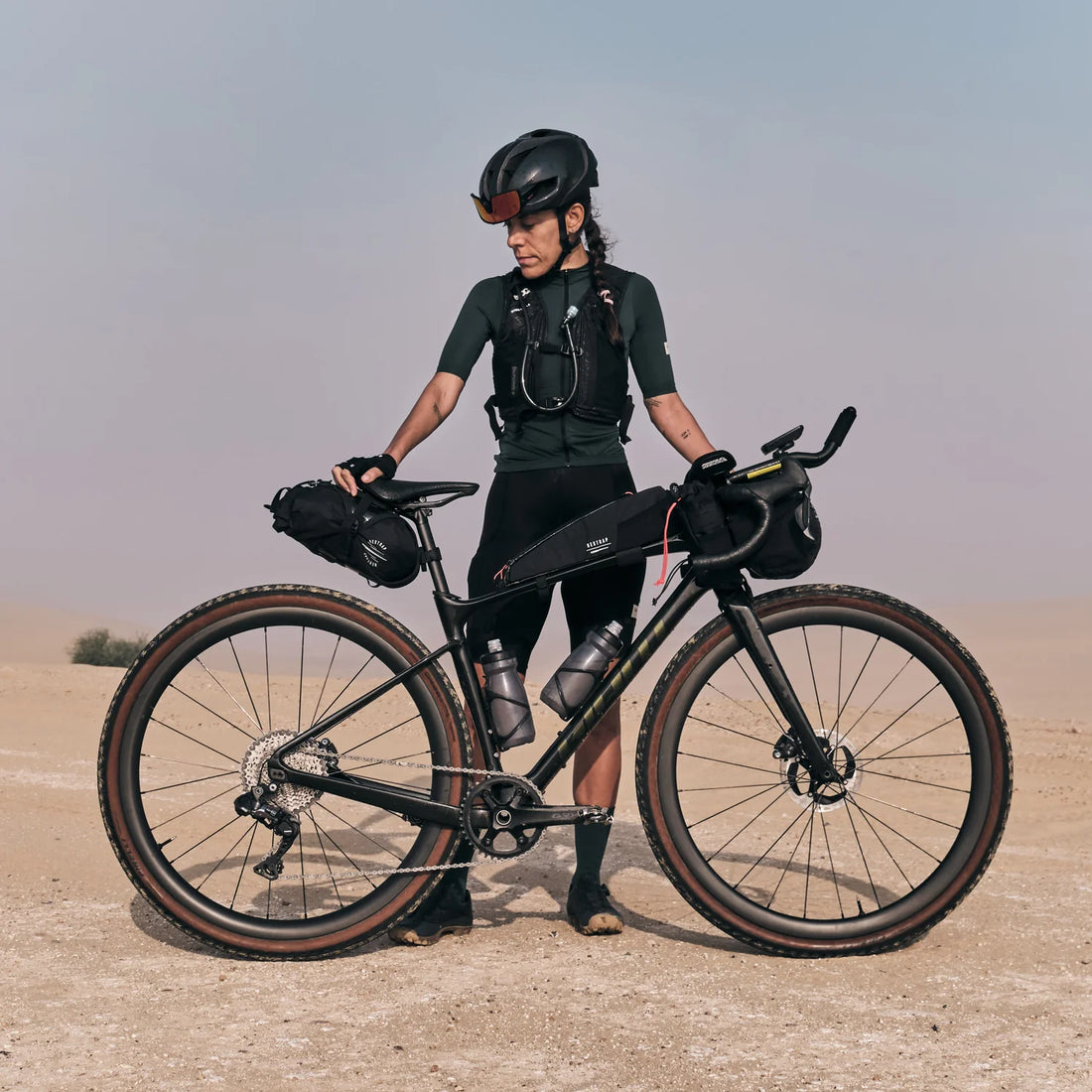 By Juliana Veterano
Professional photography by Miguel Veterano
I went to the Kenya migration race earlier last year. There I met Juliet Elliot. A while after the race, she posted about an ultra race, Across Andes. 
Before cycling, I did a lot of alpine climbing and I always dreamed of the Andes. I wrote to her that I thought about that race and she asked if I wanted to be a pair with her. I just couldn't say no! A dream come true, not alpine climbing, but through my other passion, I could make this a reality and ride the Andes. And even better, pairing with Juliet. 
I am a big advocate for women continuing their individuality and not losing what they love when they become a mom. So pairing with Juliet was a powerful thing to me. Two women, two moms, over 40, leaning in to share our strengths and pair to race over 1000 km across the Andes cordilleras. 
Training wasn't easy as I live in Dubai, and the Andes was in Nov - just before the hottest months (July - Oct). So waking up very early in the morning before the sun was the norm. I put the hours in. I was feeling ready. 
Then the unforeseen happened, I tested positive with Covid mid Nov. I just couldn't believe it. The race was on Nov. 27th and I was flying out to Chile on Nov. 23rd. Could I recover to fly ? Could I recover to race ? Even if healthy, would I lose fitness? To take off on an ultra one should be 110% because you give so much out there that it takes all you got and more. Really, sweat, blood, tears plus possible vomiting and diarrhea. 
A few days later, Juliet, thousands of miles away from me, also got Covid and couldn't make it to Chile. 
I was able to fly. Phew!!! However, I felt so weak. A walk around the block would make me want to nap for hours. But, I boarded the plane for the 30 hour journey with the hopes I would wake up well the day of the race (I was absolutely lying to myself). 
Beautiful Santiago and amazing Chilean people! Crispy air. Mountains. Lakes. Volcanos. I was just amazed. I was also filled with pure enthusiasm seeing almost 30 women lined up to race. For an ultra that's a very high number. I had never seen a community like these ladies, they were all so welcoming and really cheering each other on. 
We take off. The weather is weirdly hot. It reached over 40C. This was supposed to be a cold race. It was a tough day. But full of smiles, I did about 170km. Wanted to reach the first checkpoint but had to stop. Slept about 5 hrs and took off again the next morning. 
Chilean gravel is hard! Loose rocks. Sand. No traction. Had to push the bike up some hills. Kept going. Reached the highest point and it was just so gorgeous. There's a tree that only grows there and in Argentina and only in high altitude so it was quite magical riding through them, they are called Araucaria. 
Made it to checkpoint 1 in the early afternoon. Had a big lunch. Rested. But couldn't go on. Had a fever. Crap! Instead of pulling out, as I still had time, I decided to stay the night there and hoped for a full recovery. <insert laughs> 
Next morning, I felt just the same. But I just wasn't ready to call it quits. Went back and forth with the thought: do I keep going ? Do I stop now ? How do I go back to the start point ? A strike of luck, I bumped into another cyclist and got the energy to keep going. We took off together. He passed me, I passed him and that's how it went until km 420 when I called it quits. It hurt. I wanted to finish. Even if dead last. But I knew I couldn't go on. I was not going to recover putting that much stress on my body, and I was getting weaker by each km. 
Results for me are not measured by numbers, they are measured by the experience. Don't get me wrong, I love the chase, to set goals, and to do well, perhaps even win. But most important is the feeling a place, the people, the food, the smells, the views, all together bring into your heart… building memories. I know I am privileged to travel, to ride my bike, to be in that magical place, and live this lifestyle. And Chile and that community will always be in my heart. I am definitely going back.