SURVIVING THE MOROCCO DESERT CHALLENGE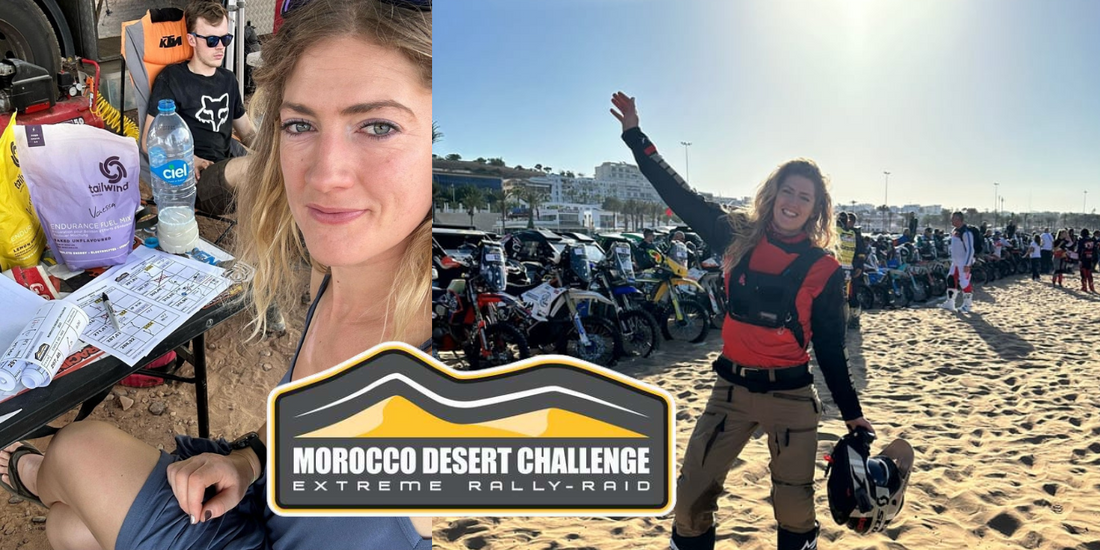 British female finishes one of the world's toughest endurance races...
Facing 2,500km of brutal African terrain with peak riding with an attrition rate so high that only 40% of the motorcycle category riders successfully completed

The gruelling Morocco Desert Challenge is an extreme 8-day motorcycle race over sand dunes in blistering temperatures hitting 52°C / 125°F

Tragically two lives lost to the desert during the race

Vanessa Ruck fought to the end finishing 25th in category, showing the male dominated industry that women can too

It was not smooth sailing for her with huge challenges from upset stomach, hydration, allergic reactions and two big crashes
Here's the story...
Vanessa Ruck, also known as The Girl on a Bike, has successfully battled for her life to complete the gruelling Morocco Desert Challenge, an extreme rally-raid over sand dunes in blistering temperatures. As one of the world's toughest endurance events, the 36-year-old Ryan completed the 8-day event, covering up to 420km each day and became one of the few who finished. With an attrition rate so high that only 40% of the motorcycle category riders successfully completed, it's a serious achievement for the British athlete. But it wasn't all sunshine!
She endured the heat wave hitting North Africa with temperatures peaking at 52°C. She tackled an upset stomach and hydration challenges from the extreme heat, faced two huge crashes that deployed her life-saving air vest, and confronted an allergic reaction that led to her barely able to open her eyes just half an hour before taking to the start line. Many would have quit.
Unforgiving extremes in the desert
But with pure grit and determination Vanessa fought on, "I knew I was racing others, but it felt more like I was fighting for my life. Fighting the terrain, battling the heat, the mental and physical fatigue, I was riding for my life. In the vast dunes, I knew that if I had an issue that was me done. I even started wording a message in my head to record on my phone for my family if the worst happened. It was scary."
The heat in the dunes is exceptional and unforgiving, and the human body is incredibly vulnerable on bikes when the temperature peaks at 52°C / 125°F in a heat wave. "I recall cresting a huge dune peak higher than a multi-storey house and scanning the horizon…there was nothing but sand and dunes in every direction and not a soul. It was me and my bike. My body was exhausted, I wanted to rest but the heat meant I had to keep pushing. The only way out, was onwards. I had to dig deep mentally to fight to the finish."
Lives lost to the desert
Competitors all accept the risk of extreme desert racing but sadly disaster struck twice, with the desert taking two lives during the race. Motorcycle rider Bram van der Wouden succumbed to the heat and exhaustion. Participants found him lying next to his motorbike, where he lay presumably having stopped to rest. The medical intervention team arrived very quickly but there was nothing they could do. The day before, a terrible racing accident took Laurent Lichtleuchter in a vehicle crash.
Mental and physical extremes
Competitors are navigating but also tackling the rugged and rocky terrain of Morocco. The tricky navigation means following a series of symbols, compass bearings, and distance on a scrolling piece of paper mounted to the handlebars, called a road book. Road book navigation events, such as the infamous Paris-Dakar, are far more than just riding. Riders have to navigate accurately, retaining mental and physical focus for upwards of 6-8 hours of racing, and do this off-road day after day. Could you stay calm on your own in the middle of nowhere, digging deep into your energy reserves with only the supplies you can carry?
It would be easy to question Vanessa's sanity and decision to enter such an event but when a cycling accident in 2014 threatened to derail the adventurous life Vanessa loved, she refused to take it lying down. Instead, she handled things the only way she knows how. Brushing herself off, she put herself back together. And then she upped the ante. With a reconstructed shoulder and hip following a 7-year recovery with 7 surgeries, Vanessa discovered the thrill of motorcycles.
Fast forward 7 years since she mounted her first off-road bike and she's taking on some of the toughest races going and is amongst very few females braving the brutalities they put you though. Vanessa's journey has not been smooth with pain now a daily feature in her life, but what she has learned is that it's vital to never let your past control your future. It's likely the resilience her recovery forced her to gain, helped her through many of the brutal Morocco Desert Challenge obstacles.
Puffy faced allergic reaction
Such as day five where she woke with an allergic reaction that caused her whole face and eyes to swell. With the weight of the fluid on her eye lids making vision a challenge and a thick head, many would have stepped down for the day. Instead, she hit the antihistamines and headed to the start. "The first 80km was tough trying to find my rhythm and see clearly, but as the pills kicked-in, the eyes eased and I found my flow. By the time I was refuelling I was feeling solid and had demolished my 4.5 litres of water already! The heat started to intensify after lunch and hitting the dunes in the midday heat felt cruel. The light with the sun at its highest was hard on my eyes that were already struggling to see contrast, but I rode steady and smooth. Only three spills in the deep sand so I was pleased with my riding" she explained.
Fight to the finish
By day 8, in these conditions, the finish line is all the competitors can focus on. Vanessa describes her final push;
"I wish I could say the final stage was smooth sailing, but I had the biggest and most painful off of my riding career so far. With my rear tanks full in preparation for hitting the sand and dunes, my bike's weight was not ideal for the first 30 km of rocky tracks. As I braked into a right-hand corner my rear tyre smashed into a submerged bolder sending my backend up and sideways like a rodeo bull. Feeling the bike unsettle, I smashed on the throttle to straighten out and held it, but the corner was on me…and with no way to pull it around I flew off the rocky track edge jumping and landing into a rock garden. Fighting I held him down, knees gripping and heart pounding, whisky throttling I managed to keep him straight but the rocky step ahead was the last straw. We launched and smashed in. I hit the jagged desert rocks HARD! My airbag magically knew before we hit the ground, deploying to my defence but a bolder impaled my left abdominal straight into my pelvis.
Winded, I screamed. The air sucked from my lungs. I couldn't tell if I was ok, kicking myself for killing my chances of a finish. I hurt. Was that me out!? No! I refused to let the pain stop me! I've fought through worse…''
Thankfully, Vanessa's body's adrenaline and determination helped her make the finish. Hurting, but knowing she had to get back on she took her emergency painkillers, and carefully remounted 'Big Buddy'. "Every bump felt excruciating, but I only had 70km to go!! Just 10km at a time, I could make it. But then I realised I needed to pee. With the pain, I knew I had no hope of getting my trousers and kit down". Vanessa jokes that she can't decide if this moment was a new high or low in her racing career… determined not to fail so close to the end, she relieved herself riding along.
"I WAS making the finish. As I crested the penultimate dune the finish line flags came into view and my heart leapt with joy!!! Everyone heard my screams of delight!" With just 40% of her moto category finishing the near 2,500km event, it's a true testament to Vanessa's strength and determination. Placing 25th in class Vanessa is an inspiration to male and females alike.
The realities of the toughest endurance races in the world are not glamorous and we appreciate Vanessa's honesty to share these highs and lows. Vanessa is a force to be reckoned with in the motorcycle world and showing the male dominated industry that women can too! She explains, "My mission is to not let my chronic pain and my past control my future. It's incredible what we can achieve if we put our minds to it!" As an inspirational speaker and athlete she's inspiring youths across the country and we look forward to seeing what she takes on next.